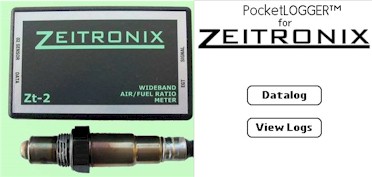 ORDER AT RIGHT
PocketLOGGER ZT is a datalogger written for use exclusively with the Zeitronix Zt-2 Wideband AFR Meter, allowing you to log data using PDAs running the Palm OS.
Any time you start modifying your vehicle, it is easy to push it beyond it's capabilities. Monitoring "Engine Vitals" such as Air-Fuel ratio and Exhaust Gas temp is critical to safely getting the most out of your modifications. The Zt-2 Wideband A/F Meter from Zeitronix is an excellent way to monitor many of your engine's vitals.
Based off the proven PocketLOGGER datalogging engine, PocketLOGGER ZT is capable of collecting and displaying data from the data port on the Zt-2 without the need of a bulky laptop. It has all the features of our other PocketLOGGER packages and is a convenient way to store vast amounts of critical engine data for later analysis, or use the 'big number' feature to display the data in real-time.
PLEASE NOTE: This is NOT a Wideband A/F Meter. This is Palm OS based Datalogging software for use with the Zeitronix Zt-2 Wideband A/F meter.
What's Included:
PocketLOGGER ZT software for Palm OS (Emailed to you)
What Else is Needed to Datalog:
Zeitronix Zt-2 Wideband AFR Meter
A Zeitronix Palm Adapter
A
Compatible
Palm OS PDA
A
Serial Hotsync cable
for your PDA
Some features of PocketLOGGER ZT:

No laptop needed, runs on a Palm OS PDA
View and/or datalog all parameters the Zt-2 can read
A/F Ratio/Lambda, EGT*, RPM, Boost*, TPS, and user input
Review saved logs any time
Big Number view displays up to 4 values in large font
Search saved logs for specific data
Alarm makes Palm beep when user set condition is met
User set trigger to automatically start datalog
Auto name and save logs over 5 seconds
User programmable QuickSelects
Min/Max memory for all selected parameters
Log size only limited by available memory
Efficient log storage saves limited handheld memory
* Requires additional hardware. See the Zeitronix site for more details.