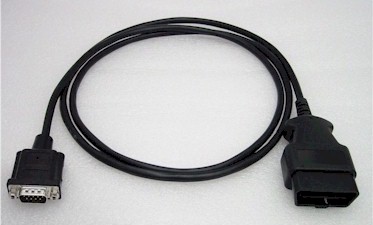 ORDER AT RIGHT
PocketLOGGER for OBDII is a datalogger for 96+ Import and Chrysler cars designed to run on PDAs running the Palm OS.
Don't be fooled by other companies who resell unsupported software they didn't write and cables that fall apart. PocketLOGGER for OBDII software is written and supported 100% by us and we manufacture the data cable ourselves, here in the USA.
PocketLOGGER allows the extraction and storage of vast amounts of information from your car in a small convenient package. Performance enthusiasts will find PocketLOGGER to be an indispensable tool for tuning and PocketLOGGER's error code reading and clearing capabilities can save you the time and cost of a trip to the mechanic when your Check Engine light comes on.

PocketLOGGER for OBDII designed to work on OBDII equipped cars with the ISO 9141-2 interface. Please see this page to find out if your car is compatible. Also check out the PocketLOGGER for OBDII FAQ for much more information.
PocketLOGGER Exclusive Feature:
Adjustable communication timing allowing capture rates above the standard 6 samples per second. By giving the user control over the OBDII communications, we were able to reliably extract data at the highest rate an ECU will support. By running 2 simple tests while connected to the car, PocketLOGGER will automatically find the fastest data rate that the ECU will support. In field testing, we have seen cars that won't support much more than the standard 6 samples per second, all the way to cars that will support 20 samples per second or more. Since PocketLOGGER is geared for performance tuning rather than a generic OBDII scan tool, we felt it was important to include this feature.

Click here for a list of capture rates for over 40 different cars.

What's Included:
PocketLOGGER data cable for OBDII
PocketLOGGER for OBDII software (Emailed to you)
What Else is Needed to Datalog:
A
Compatible
Palm OS PDA
A
Serial Hotsync cable
for your PDA
Check out the Getting Started page for more information.
Some of PocketLOGGER's features:

Fully molded cable. No Boxes or glued together connectors
No laptop needed!!
Works on any handheld running Palm OS 3.0 or later*
Datalog routines based on the proven DSM version
Capable of reading 22 different engine parameters
View sensor values for up to 12 parameters at once
Graphically datalog up to 12 parameters at once
Data capture rates of 20 samples per second or more are possible
Review saved logs
Log size only limited by available memory
Efficient log storage saves limited handheld memory
Diagnostic Trouble Code extraction and clearing
Due to the dynamic nature of OBDII data, a demo of the software would not show you much without actually being connected to the car. Download the DSM version demo to get an idea of the user interface.