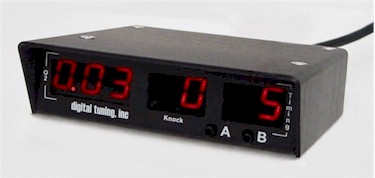 ORDER AT RIGHT
Updates:
The first release version will simply display O2, Knock, and Timing. The KnockBOX's program can be easily updated with simple hand tools by the customer by simply swapping a chip. Updates will cost approximately $15 including shipping to cover the cost of the chip.

Future updates will expand the functionality of the KnockBOX and will include the utilization of the 2 front panel buttons. Future update possibilities are Peak Hold and support to temporarily view other parameters like fuel trims. We are eager to hear customer's ideas for updates.
Future Versions and Upgrades:
The KnockBOX has been designed to be more than just a display unit. Future options will allow viewing and datalogging (with a PocketLOGGER) of external inputs like EGT, Boost, and WideBand O2 sensors. (EGT will have it's own probe) This added functionality is possible with customer installable add in modules that will be available in the coming months. Price and release dates of these modules have not been determined at this time.
Order:
KnockBOX
- No Enclosure -
$75.00

THIS ITEM HAS BEEN
DISCONTINUED

When ordering:
The SA (Stand-Alone version) CANNOT be used with the PocketLOGGER.

The PL (PocketLOGGER version) REQUIRES the PocketLOGGER cable.

Customer review:
KnockBOX:
Digital Tuning has once again created a product worth much more than the $200 it sells for. Definitely worth it even if you ... more
-Andrew, Las Vegas, NV