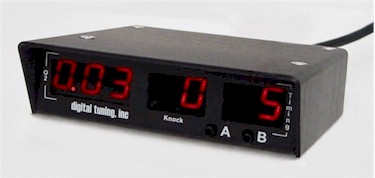 ORDER AT RIGHT
Case:
The KnockBOX case is 3.5"W x 1"H x 3.3"D and is constructed of .060 thick aluminum. The aluminum has a durable black anodize applied.
LED Display:
The standard LED display is red. The LED displays are protected by a .030 thick circular polarizing optical filter. This increases the contrast of the LEDs while blocking external light from washing out the display.
Buttons:
The buttons are high tactile microswitches. The high tactile force along with the placement make them easy to operate even while wearing thick gloves.
Cables:
All cables included are fully overmolded for durability just like our PocketLOGGER cables.
Order:
KnockBOX
- No Enclosure -
$75.00

THIS ITEM HAS BEEN
DISCONTINUED

When ordering:
The SA (Stand-Alone version) CANNOT be used with the PocketLOGGER.

The PL (PocketLOGGER version) REQUIRES the PocketLOGGER cable.

Customer review:
KnockBOX:
Digital Tuning has once again created a product worth much more than the $200 it sells for. Definitely worth it even if you ... more
-Andrew, Las Vegas, NV