KnockBOX™ SA Instructions:
The KnockBOX™ SA is a complete stand-alone system capable of displaying Knock, Timing, and O2, direct from the ECU.

The KnockBOX™ SA comes with three pieces:
One - KnockBOX™
One - 2 prong power cable
One - 6 prong master cable
Installation:
Slave Cable: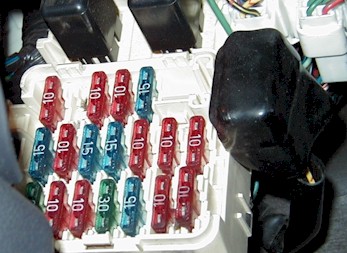 Locate the fuse box near the driver's side kick panel. In the upper right hand corner of the fuse box, you will see a black boot covering a connector. Remove this boot by peeling it left to right. Under the boot, you will find the diagnostic connector.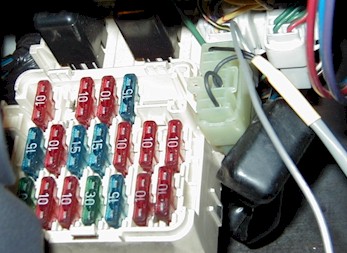 Plug the Slave cable into the connector. It should snap into place. This is a locking connector. It will not fall out. To remove the cable, *first* fully depress the tab on the left side of the connector, and then gently pull the connector out.
Connect the 6 prong connector (located at the other end of the cable) into the back of the KnockBOX™.
Power Cable:
Connect the red power lead to any ignition-controlled power source.

Connect the black ground to any suitable chassis ground.

Connect the 2 prong connector (located on the opposite end of the exposed red/black wires) to the back of the KnockBOX™.

The KnockBOX™ is now ready.
Operation:
Upon powerup, the KnockBOX will go through a brief self-test. It will then display "X.XX YY YY" where X is the firmware version number and Y is either blank or "30 00" if your KnockBOX is for a 3000GT/Stealth.

Once the self-test is complete, the screen should go to all dashes. This indicates that there is no communication. Within 5 seconds, numbers should come up on the display. If they do not, check to make sure the master cable is connected properly.