Aside from having a compatible car:
The Stand Alone version requires no other hardware. That's why we named it "Stand Alone". You can take it right out of the box and plug it in. The downside is that when it's plugged in, you cannot have a datalogger plugged in at the same time.

The KnockBOX for PocketLOGGER (or "PL") version requires that you have a PocketLOGGER data cable. Without one you will not be able to connect the KnockBOX to your car. While you need a PocketLOGGER cable for the KnockBOX PL, you do not need a PDA connected or the PocketLOGGER software running. The KnockBOX PL will run much like the SA version, until a PDA is connected and the PocketLOGGER software is running. At that point, the KnockBOX switches to "listen" mode and allows the PocketLOGGER to work normally while it listens for the data it needs.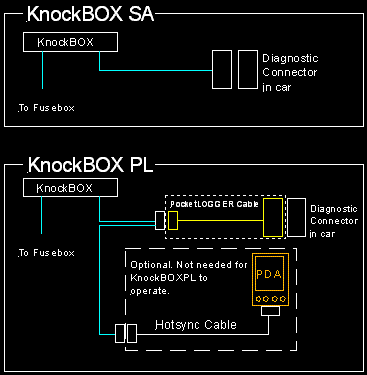 More information:
If you don't know which cars are compatible with the KnockBOX, you can find that information here.

If you are wondering what effects the KnockBOX has on PocketLOGGER datarates, that information is here.

If you are looking for installation and operating instructions for the KnockBOX PL (PocketLOGGER version), you can read more here.

Otherwise, the installation and operating instructions for the KnockBOX SA (Stand-Alone version) are here.
Still Lost?:
If you still haven't found what you're looking for, you can take a look at our help section.